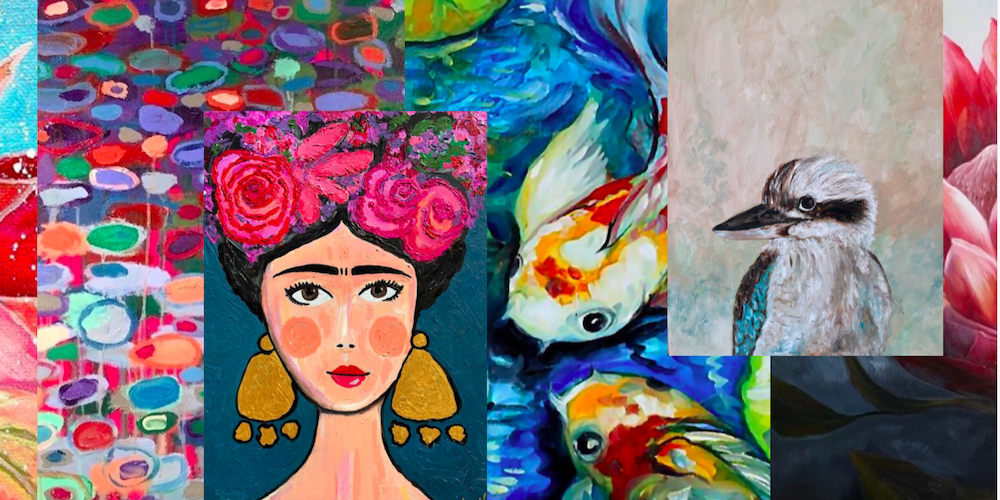 Who'd ever thought ordinary rocks could look so amazing?!
Kids and adults can create amazing new rock friends, fridge magnets and garden ornaments in one of our fun rock painting classes.
Simply choose the rock design you would like to paint, and we'll bring all the supplies to your venue so that you and your companions can create it.
1-hour party – $17.50 per person (minimum of 6), all materials supplied
1.5-hour party – $22.50 per person (minimum of 4), all materials supplied
We'll bring the rocks, paint, brushes, water containers, aprons, table coverings and a sense of fun! You only need to supply any food and drinks for you and your guests.
CHOOSE A PAINTING FROM OUR GALLERY
Don't see something to inspire you? You are welcome to email us a suggestion to curator@theartspy.copm.au
BOOK TODAY TO SECURE YOUR PARTY
NOTE: Your host, Natasha Shaw, has a current paid Working With Children Check.
Check available dates, then book to secure your spot….
RED = unavailable
ORANGE = tentative booking
January 2021

M

T

W

T

F

S

S

1

2

3

4

5

6

7

8

9

10

11

12

13

14

15

16

17

18

19

20

21

22

23

24

25

26

27

28

29

30

31
February 2021

M

T

W

T

F

S

S

1

2

3

4

5

6

7

8

9

10

11

12

13

14

15

16

17

18

19

20

21

22

23

24

25

26

27

28
March 2021

M

T

W

T

F

S

S

1

2

3

4

5

6

7

8

9

10

11

12

13

14

15

16

17

18

19

20

21

22

23

24

25

26

27

28

29

30

31
April 2021

M

T

W

T

F

S

S

1

2

3

4

5

6

7

8

9

10

11

12

13

14

15

16

17

18

19

20

21

22

23

24

25

26

27

28

29

30
May 2021

M

T

W

T

F

S

S

1

2

3

4

5

6

7

8

9

10

11

12

13

14

15

16

17

18

19

20

21

22

23

24

25

26

27

28

29

30

31
June 2021

M

T

W

T

F

S

S

1

2

3

4

5

6

7

8

9

10

11

12

13

14

15

16

17

18

19

20

21

22

23

24

25

26

27

28

29

30
July 2021

M

T

W

T

F

S

S

1

2

3

4

5

6

7

8

9

10

11

12

13

14

15

16

17

18

19

20

21

22

23

24

25

26

27

28

29

30

31
August 2021

M

T

W

T

F

S

S

1

2

3

4

5

6

7

8

9

10

11

12

13

14

15

16

17

18

19

20

21

22

23

24

25

26

27

28

29

30

31
September 2021

M

T

W

T

F

S

S

1

2

3

4

5

6

7

8

9

10

11

12

13

14

15

16

17

18

19

20

21

22

23

24

25

26

27

28

29

30
October 2021

M

T

W

T

F

S

S

1

2

3

4

5

6

7

8

9

10

11

12

13

14

15

16

17

18

19

20

21

22

23

24

25

26

27

28

29

30

31
November 2021

M

T

W

T

F

S

S

1

2

3

4

5

6

7

8

9

10

11

12

13

14

15

16

17

18

19

20

21

22

23

24

25

26

27

28

29

30
December 2021

M

T

W

T

F

S

S

1

2

3

4

5

6

7

8

9

10

11

12

13

14

15

16

17

18

19

20

21

22

23

24

25

26

27

28

29

30

31