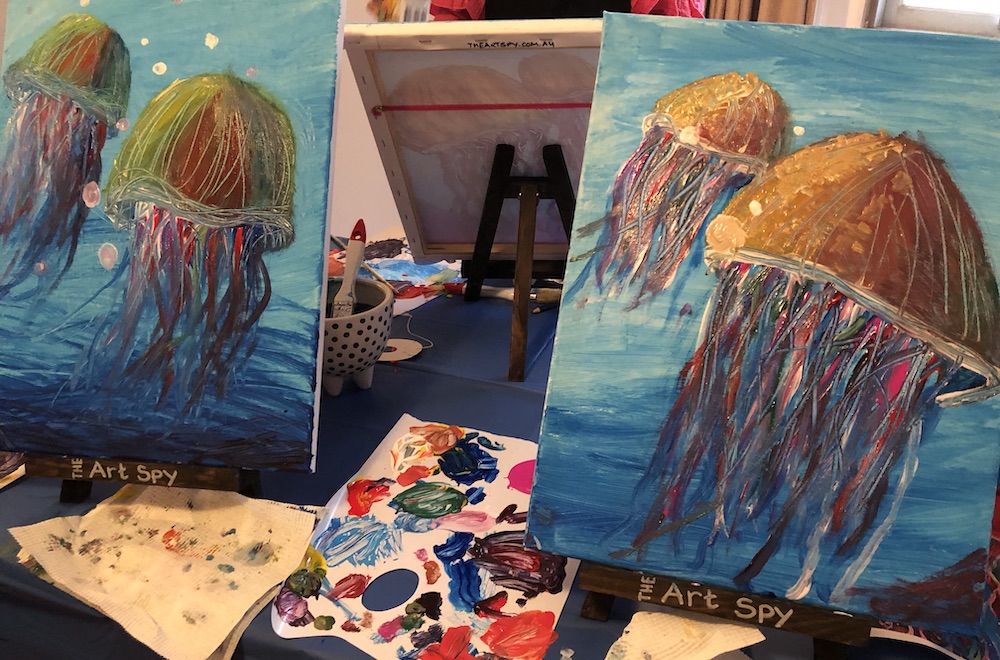 Please take a look below for all information about our art gatherings, or to answer any questions you may have.
What's included in the cost?
We provide everything you need so that you can create a masterpiece to take home – a stretched canvas, paint, paintbrushes, tubs for water and paint, pencils and a few other tools of the trade, depending on your chosen artwork to paint. Each person will also receive a "spy mask" to wear and take home. We will also supply bib aprons.
We can provide trestle tables for outdoor events (for up to 12 adults or 16 children – please let us know if you require them when you book). Also, if your party is located more than 15km from Wahroonga Public School, a $20 travel fee will be incurred.
Do I need to make a booking?
Yes. Dates and numbers are limited, so please try and book your event as early as possible to avoid disappointment. Note that at a $50 deposit is required to secure your booking for groups of up to 10, and $80 for 10 or more people, at least 5 days before your event is to commence. Any remainder can be paid up to 24 hours prior to the event. You may pay the balance via cash on the day with prior arrangement.
How much time will I need?
This will depend on the ages and abilities of the children/adults. If children are aged 8 or under, please choose a less complicated painting if you would like a 1-hour long party. If your heart is set on an artwork that is more complicated, The Art Spy may be able to simplify it to suit the timeframe.
Please ensure your guests arrive at least 15 minutes before the paint party begins, so that it can start right on time and no-one is left behind.
What if I there are a lot of people who wish to paint?
For workplace and special event art classes, please visit our Adult Group Art Classes and we will do our best to accommodate your needs. Our 2 trestle tables accommodate up to 16 children and 12 adults in total. If you plan to invite more people, please have extra tables available. 
Can small children attend adult events?
These classes are designed for adults only. We do understand that parents may have no choice but to have younger ones (babies and toddlers) in tow. If this is the case, please try to occupy them with another activity while you paint as we would love you to get as much as possible from the workshop. Note that your host does have a current paid Working With Children check.
What do we need to bring?
Nibbles and drinks often inspire creativity, so you are welcome to bring along any to suit your event. Please keep in mind that you, or the kids, will have a paintbrush in hand for a lot of the time, so think easy!
Adults and older children may also want to wear an apron or other protective (old) clothing if you tend to get a bit messy around paint. Once dry, acrylic paint is hard to remove from clothing and The Art Spy does not accept responsibility for any paint on clothing items. Also, think comfy clothes. The Art Spy provides aprons, however these do not cover the arms. Also, anyone with long hair should tie it back so that it doesn't become a paintbrush!
We can supply up to 2 trestle tables, if needed. However, if you are hosting one of our art events and you would like to sit down, you will need to supply chairs.
Lastly, please bring along your sense of fun and creative spirit!
What if my child's painting isn't how I expected it to look?
While The Art Spy takes all artists step-by-step through each painting to try and ensure the best outcome, ability aside, there are some occasions when children are simply not in the mood to paint or follow instructions. It can help if you let the children know what to expect before the party starts so that they can enter the session with a good mindset. And if you want to stay and help them, then that's ok, too!
What about photography?
You are welcome to take photos of any children/adults painting. The Art Spy make take photos of the set-up and artworks at an event, but will not take photos of any child or adult, without expressed permission from an adult. Furthermore, should permission be asked, The Art Spy will only ever take a photograph of a child who is wearing a mask supplied by The Art Spy for the event in order to protect their identity. Photos will only ever be used on The Art Spy website and social media etc to promote The Art Spy art classes and not for any other purpose.
Can I reschedule or cancel my art event?
We understand that circumstances, and the weather!, can interrupt time for creativity. You can reschedule your event up to 2 days (unless due to weather) before it occurs or cancel your event up to 7 days before (cancelling fewer than 5 days beforehand will see you forfeit the deposit for your event).
If Covid restrictions prevent a party from going ahead, you will receive a full refund of any monies paid.
What if it rains?
If rain is forecast, please have a dry location in mind if you are organising an art at your chosen venue. Even a garage, carport or lounge room can be transformed into an art studio in minutes! Art in the Garden events may be rescheduled.
Have another question? Please contact us.