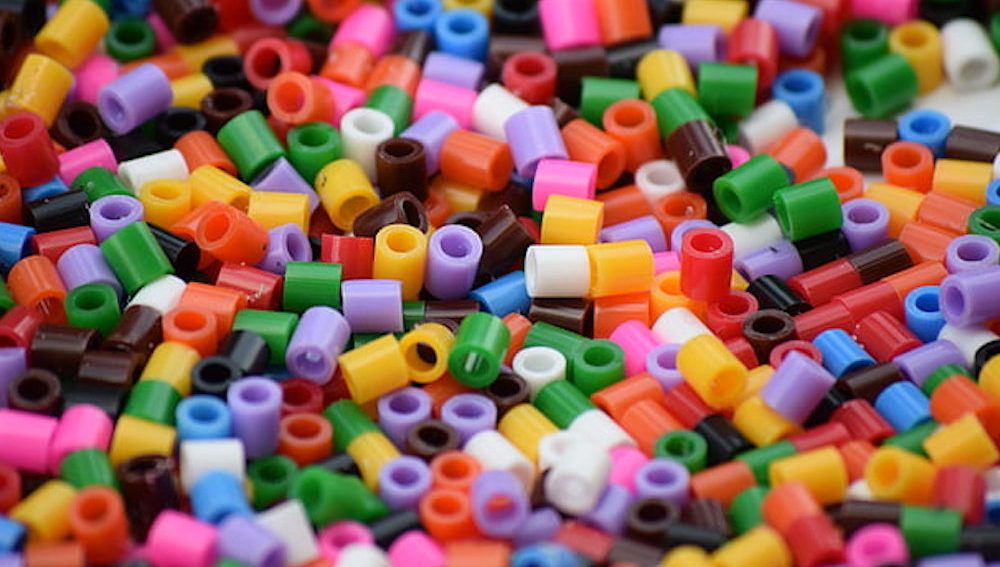 Boys and girls of all ages will love creating bead pattern pictures to take home. No fuss, great fun!
I couldn't even tell there were 12 kids in the room, they were so busy quietly creating! And they were so proud of their finished designs. Best of all, the whole party was set up without me having to worry about it! – Kelly, Turramurra
We bring all the supplies to your home so the children can create wonderful fusible bead designs to take home.
The children can follow any of our templates from flowers, flamingos and bracelets to Minecraft and Nintendo ideas – or they can create their own fabulous designs. Children can create as many bead designs as they like in the allocated time, and your Art Spy host will help them along the way and use an iron to fuse the creations so they are ready to take home.
1-hour fusible bead party – $18.50 per child (minimum of 6, ages 5+), all materials supplied
1.5-hour fusible bead party – $22.50 per child (minimum of 6, ages 5+), all materials supplied
We'll bring the beads, various bead peg board shapes, a range of design ideas on printed cards, trestle tables (if needed), table coverings, iron and ironing board for fusing, party bags for the bead pictures to go home in … and a sense of fun! We do the set up and cleaning up, too. You only need to supply any food and drinks for your bead artists after all that designing is done.
Wondering if we cover your area of Sydney? Check out our map here.
Below are just some of the designs the kids can create…. If you have a party theme, be sure to let us know and we'll try and find some designs to suit.
BOOK TODAY TO SECURE YOUR BEAD PARTY
NOTE: Your host, Natasha Shaw, has a current paid Working With Children Check.
Check available dates, then book to secure your spot….
GREEN = morning unavailable
BLUE = afternoon unavailable
PINK = whole day unavailable
ORANGE = tentative booking
May 2022

M

T

W

T

F

S

S

1

2

3

4

5

6

7

8

9

10

11

12

13

14

15

16

17

18

19

20

21

22

23

24

25

26

27

28

29

30

31
June 2022

M

T

W

T

F

S

S

1

2

3

4

5

6

7

8

9

10

11

12

13

14

15

16

17

18

19

20

21

22

23

24

25

26

27

28

29

30
July 2022

M

T

W

T

F

S

S

1

2

3

4

5

6

7

8

9

10

11

12

13

14

15

16

17

18

19

20

21

22

23

24

25

26

27

28

29

30

31
August 2022

M

T

W

T

F

S

S

1

2

3

4

5

6

7

8

9

10

11

12

13

14

15

16

17

18

19

20

21

22

23

24

25

26

27

28

29

30

31
September 2022

M

T

W

T

F

S

S

1

2

3

4

5

6

7

8

9

10

11

12

13

14

15

16

17

18

19

20

21

22

23

24

25

26

27

28

29

30
October 2022

M

T

W

T

F

S

S

1

2

3

4

5

6

7

8

9

10

11

12

13

14

15

16

17

18

19

20

21

22

23

24

25

26

27

28

29

30

31
November 2022

M

T

W

T

F

S

S

1

2

3

4

5

6

7

8

9

10

11

12

13

14

15

16

17

18

19

20

21

22

23

24

25

26

27

28

29

30
December 2022

M

T

W

T

F

S

S

1

2

3

4

5

6

7

8

9

10

11

12

13

14

15

16

17

18

19

20

21

22

23

24

25

26

27

28

29

30

31
January 2023

M

T

W

T

F

S

S

1

2

3

4

5

6

7

8

9

10

11

12

13

14

15

16

17

18

19

20

21

22

23

24

25

26

27

28

29

30

31
February 2023

M

T

W

T

F

S

S

1

2

3

4

5

6

7

8

9

10

11

12

13

14

15

16

17

18

19

20

21

22

23

24

25

26

27

28
March 2023

M

T

W

T

F

S

S

1

2

3

4

5

6

7

8

9

10

11

12

13

14

15

16

17

18

19

20

21

22

23

24

25

26

27

28

29

30

31
April 2023

M

T

W

T

F

S

S

1

2

3

4

5

6

7

8

9

10

11

12

13

14

15

16

17

18

19

20

21

22

23

24

25

26

27

28

29

30