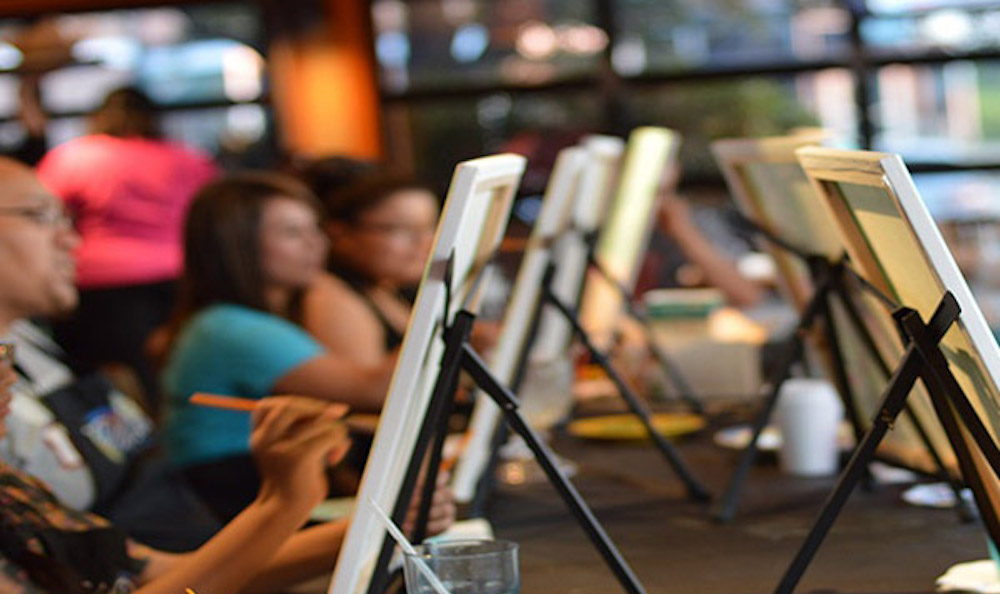 It's the perfect team-bonding exercise! Everyone paints an acrylic artwork to take home or hang in the office.
We come to your place of work or other venue, supply all the materials and take colleagues step-by-step through the chosen painting! The finished A3 design becomes a great reminder of the day and of good times getting to know work colleagues better. Can you guess who will be the most creative?
Choose a painting below, check the available dates and book today!
2-HOUR WORKSHOP – $42.50 per person (minimum 10 people)
No experience necessary. All levels welcome. We'll help you unleash your creative spark.
CHOOSE A PAINTING FROM OUR GALLERY
Note that these are simply suggestions of how your painting could look. On the day, you are welcome to change background colours etc to obtain your desired painting. You are also welcome to email through another suggestion or theme to curator@theartspy.com.au.
BOOK TODAY TO SECURE YOUR EVENT
Check our available dates, then complete the form below and we will do our best to accommodate your date and requirements.
GREEN = morning unavailable
BLUE = afternoon unavailable
PINK = whole day unavailable
ORANGE = tentative booking
May 2022

M

T

W

T

F

S

S

1

2

3

4

5

6

7

8

9

10

11

12

13

14

15

16

17

18

19

20

21

22

23

24

25

26

27

28

29

30

31
June 2022

M

T

W

T

F

S

S

1

2

3

4

5

6

7

8

9

10

11

12

13

14

15

16

17

18

19

20

21

22

23

24

25

26

27

28

29

30
July 2022

M

T

W

T

F

S

S

1

2

3

4

5

6

7

8

9

10

11

12

13

14

15

16

17

18

19

20

21

22

23

24

25

26

27

28

29

30

31
August 2022

M

T

W

T

F

S

S

1

2

3

4

5

6

7

8

9

10

11

12

13

14

15

16

17

18

19

20

21

22

23

24

25

26

27

28

29

30

31
September 2022

M

T

W

T

F

S

S

1

2

3

4

5

6

7

8

9

10

11

12

13

14

15

16

17

18

19

20

21

22

23

24

25

26

27

28

29

30
October 2022

M

T

W

T

F

S

S

1

2

3

4

5

6

7

8

9

10

11

12

13

14

15

16

17

18

19

20

21

22

23

24

25

26

27

28

29

30

31
November 2022

M

T

W

T

F

S

S

1

2

3

4

5

6

7

8

9

10

11

12

13

14

15

16

17

18

19

20

21

22

23

24

25

26

27

28

29

30
December 2022

M

T

W

T

F

S

S

1

2

3

4

5

6

7

8

9

10

11

12

13

14

15

16

17

18

19

20

21

22

23

24

25

26

27

28

29

30

31
January 2023

M

T

W

T

F

S

S

1

2

3

4

5

6

7

8

9

10

11

12

13

14

15

16

17

18

19

20

21

22

23

24

25

26

27

28

29

30

31
February 2023

M

T

W

T

F

S

S

1

2

3

4

5

6

7

8

9

10

11

12

13

14

15

16

17

18

19

20

21

22

23

24

25

26

27

28
March 2023

M

T

W

T

F

S

S

1

2

3

4

5

6

7

8

9

10

11

12

13

14

15

16

17

18

19

20

21

22

23

24

25

26

27

28

29

30

31
April 2023

M

T

W

T

F

S

S

1

2

3

4

5

6

7

8

9

10

11

12

13

14

15

16

17

18

19

20

21

22

23

24

25

26

27

28

29

30