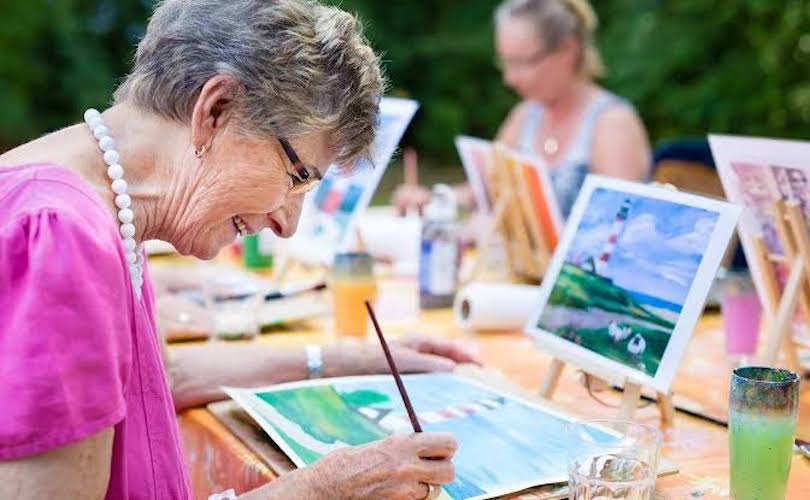 Conversation & Canvas Workshops
Grab a few good friends, workmates or family and enjoy a fun 2- or 3-hour art workshop, painting your very own masterpiece. We can come to your home or office, or you can attend a workshop at The Art Spy.
Everyone will paint an eye-catching acrylic artwork that's ready to hang in the home or office. And you'll all have a fab time exploring your inner Picasso while having a good ole chat with old and new friends over a few snacks and drinks.
No experience necessary. All levels welcome. We'll help you unleash your creative spark.
We supply all art supplies, including a stretched canvas (approx. 30cm x 40cm) and acrylic paint. You simply supply any nibbles and drinks for your group … and bucket-loads of enthusiasm! 🙂
You can suggest a painting for your group to copy, or choose one of the options we offer for our parties, here.
OUR FUN WORKSHOPS!
Each person will complete the same acrylic painting on stretched canvas. Don't worry if you are a beginner painter – we'll be on-hand to guide you all the way. All materials supplied. Suggest at date via email to curator@theartspy.com.au and we'll do our best to accommodate you. 
3-HOUR WORKSHOP – $59 per person, 3 to 10 people ($90 per person, 1-2 people)
2-HOUR WORKSHOP – $45 per person, 3 to 10 people  ($65 per person, 1-2 people)
WORKPLACE GROUPS, HEN'S PARTIES, BIRTHDAY PARTIES ETC –  If you have a party greater than 10 people, click here for some fantastic options. Got a question, please email curator@theartspy.com.au.